EVA MARCILLE'S DAUGHTER IS FOLLOWING IN HER MOM'S MODELING FOOTSTEPS
EVA MARCILLE'S DAUGHTER IS FOLLOWING IN HER MOM'S MODELING FOOTSTEPS
"When The Baby Serves Mommy Vibes"
by
Sarie
in
NEWS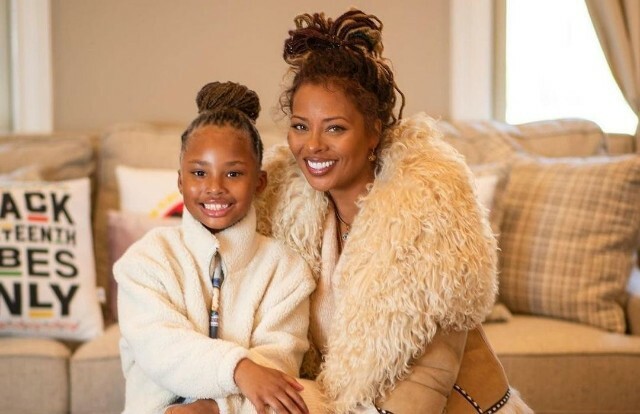 1
VIEWS
Share on FacebookShare on TwitterShare on LinkedinShare on Whatsapp
Eva Marcille's daughter, Marley Rae, is following in her mom's modeling footsteps. The almost eight year old is serving 'mommy vibes' according to actress Kim Fields, who recently commented under a photo shared by Marcille.
View this post on Instagram
RelatedPosts

BRANDY'S DAUGHTER, SY'RAI SMITH, IS THE FACE OF FOOT LOCKER'S NEW 'COZI' LINE

DANIELLE BROOKS AND DENNIS GELIN HAVE A WINTER WEDDING WITH DAUGHTER AS FLOWER GIRL
In the candid, Marley Rae looks away from the camera as she strikes a pose for the camera. "Too cute," Eudoxie Bridges told Eva after seeing the photo. "When the baby serves mommy vibes," Kim Fields said. "So precious and fab," the veteran actress exclaimed.
Many already see greatness in Marley Rae that will positively impact society. "She is going to shift the planet," one social media follower wrote online after viewing a series of pictures that featured Marley in all of her uniqueness. Another fan even deemed Marley Rae as America's next top model, which paid tribute to her mom who rose to fame after winning Season 3 of America's Next Top Model (ANTM).
View this post on Instagram
Eva Marcille definitely sees herself in her daughter. It was just last year that the model raved about her little one's ability to strike a pose without having to put much thought into the act.
"My baby Marley is always ready," Eva told her social media fans. "They call her Model Marley because she can strike a pose," Marcille exclaimed.
View this post on Instagram
All of Eva's kids have a style sense about them that can be traced back to their mom. "I have this thing for hats," Eva recently shared with PEOPLE. "I love brims," the model added. "It's my thing," Marcille declared. "And my son, now, since I literally have on some kind of a hat every other day, at least, now he wants hats," Eva revealed.
"They have definitely taken on my sense of style," Eva Marcille went on to tell the media source. "And at least just caring about their aesthetic in a very fun and creative way."
View this post on Instagram
Marley Rae Sterling is Eva Marcille and husband Michael Sterling's oldest child. The celebrity couple also has two sons named Michael and Maverick.
Photo: Sterling Photography
Post Views:
1,303