MENDEECEES AND THE MOTHERS OF HIS KIDS COME TOGETHER TO CELEBRATE SON'S BIRTHDAY
MENDEECEES AND THE MOTHERS OF HIS KIDS COME TOGETHER TO CELEBRATE SON'S BIRTHDAY
"Drippy 16 Loading"
by
Sarie
in
NEWS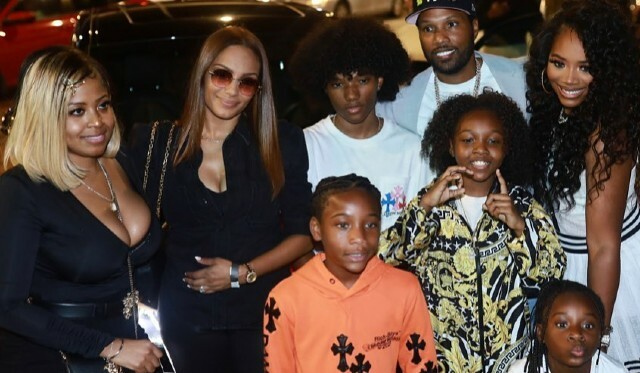 1
VIEWS
Share on FacebookShare on TwitterShare on LinkedinShare on Whatsapp
Mendeecees and the mothers of his kids are still celebrating after coming together to commemorate the rapper's oldest son's birthday. Mendeecees Jr., also called Lil Mendeecees, turned 16-years-old and received all the festivities that his parents could create.
View this post on Instagram
RelatedPosts

RUSSELL WILSON SPOTTED AT FUTURE ZAHIR'S FLAG FOOTBALL GAME FOLLOWING FINGER SURGERY

USHER AND GIRLFRIEND JENN GOICOECHEA WELCOME THEIR SECOND CHILD TOGETHER
Mendeecees gifted his son with a BMW SUV that put a big smile on Lil Mendeecees' face. "Do good in school and I gotcha," Mendeecees wrote to his son. "So adorable," one fan exclaimed. "He's your twin." Another social media follower said, "I love your home and how you keep all them together."
Lil Mendeecees is Mendeecees son with Samantha Wallace. The celebrity father also has two children, Omare and Skylar, with his wife, Yandy Smith-Harris. Mendeecees also has a son, Aasim Harris, with his ex, Erika DeShazo. Yandy took to Instagram over the weekend to celebrate her stepson's sixteenth birthday.
View this post on Instagram
"Drippy 16 Loading," the celebrity exclaimed online. "He wants 100k followers [on Instagram] for his b-day," Yandy said of Lil Mendeecees' birthday wish. "Come on y'all," the celebrity encouraged her followers. "I promised I'd get him there."
Yandy Smith-Harris works to maintain harmony in her blended family. The Love and Hip Hop: Atlanta (LHHATL) star released a children's book about blended families a few years ago.
View this post on Instagram
"My Blended Family is a book that evolved from a very personal experience," Yandy said during an interview with CEO Mom. "We, of course, are in a blended family," the celebrity mom explained. "I created this book for parents to have an easier way to explain to their children that some families are different, but they are still normal," Yandy revealed. "It is good to have books that have roles and characters your kids can relate to or look like them," the children's author shared.
View this post on Instagram
You can pick up a copy of Yandy Smith-Harris' My Blended Family on Amazon and at bookstores nationwide.
Photo: Mendeecees Jr./Instagram
Post Views:
5,277