KHLOE KARDASHIAN IS TEACHING HER DAUGHTER ABOUT THE VALUE OF FAMILY
KHLOE KARDASHIAN IS TEACHING HER DAUGHTER ABOUT THE VALUE OF FAMILY
"The Core Of Every Conversation"
by
Sarie
in
NEWS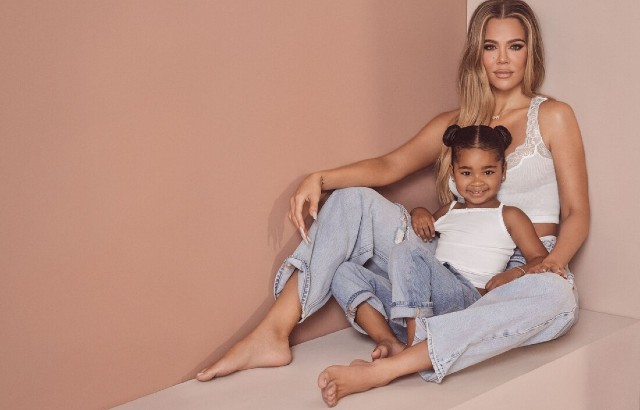 1
VIEWS
Share on FacebookShare on TwitterShare on LinkedinShare on Whatsapp
Khloe Kardashian is teaching her daughter, True Thompson, about the importance of family. The celebrity mom recently sat down with Health magazine to talk about how much she values her extended family.
View this post on Instagram
RelatedPosts

FIVE LAST-MINUTE HALLOWEEN COSTUMES THAT KIDS WILL LOVE

ZAIRE WADE, DWYANE WADE'S SON, JOINS UTAH JAZZ'S G LEAGUE AFFILIATE
"True is now 3 [years old]," Khloe shared with Health. "My family is glued to one another regardless, but with COVID and the lockdown, her cousins were her only friends for a bit," the celebrity mom shared. "There were no play classes or anything like that," Khloe added.
The Kardashian-Jenner family made the most of lockdowns last year with drive-by birthday celebrations and other measures meant to keep the bond strong. Now, with quarantine regulations relaxed, the famous blended family has the opportunity to spend more time together in person.
View this post on Instagram
"As kids, family was always at the core of every conversation," Khloe Kardashian said of her upbringing during her recent interview with Health. "No matter what, you support one another," the celebrity added.
"I could never imagine not speaking to one of my sisters," Khloe continued. "It just doesn't happen," she shared. "My sisters have gotten into some brutal, literally punching fights. But you get over it—there's no other option."
View this post on Instagram
"And we're raising the cousins to almost feel like they're siblings. I don't care if they disagree— that's inevitable. And, of course, I want them to talk through their feelings and feel validated. But there's just no option for us to be separated and not talk to one another."
True Thompson is Khloe Kardashian's daughter with NBA player Tristan Thompson. The little one celebrated her third birthday earlier this year. In addition to having cousins who are like siblings, True also has a brother named Prince who is Tristan's son with his ex, Jordan Craig. Prince celebrates his fifth birthday in December.
View this post on Instagram
You can see the bond that the Kardashian-Jenner family has when you catch up on old episodes of Keeping Up With The Kardashians (KUWTK).
Photo: Dennis Leupold
Post Views:
608