SEAN 'DIDDY' COMBS' KIDS ARE 'GETTING SO BIG'
SEAN 'DIDDY' COMBS' KIDS ARE 'GETTING SO BIG' "They're So Tall"
by Sarie Jul 3, 2020 in NEWS 0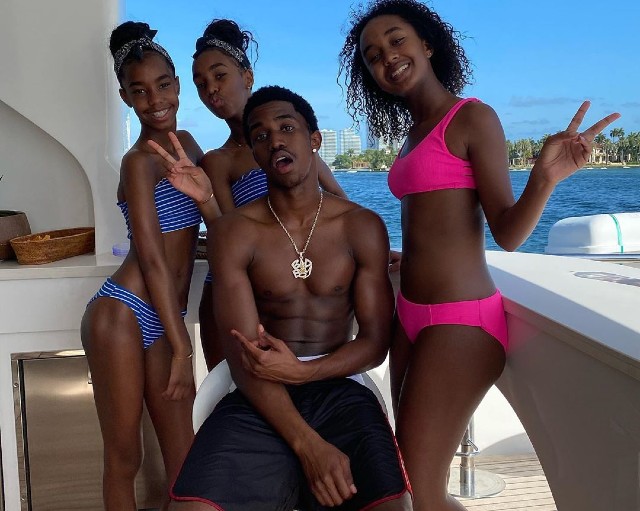 Express Your Reaction Share Tweet
Sean "Diddy" Combs' youngest kids are growing up before our eyes and even big brother Christian Combs agrees! Jessie, D'Lila, and Chance's older brother recently took to Instagram to celebrate his younger sisters' growth.
View this post on Instagram
#supportblackcolleges Thank you guys so much for the hoodies! They are so cute we love them 💗
"They're getting so big," Christian told his social media fans. Dozens of the young adult's Instagram followers agreed and commented. "They're so tall," one fan said of the Combs sisters' height. Another of Christian's Instagram followers wrote, "Big brother goals."
Christian Combs has been the model big brother these past few months. Not only has Diddy's son picked his younger sisters up from school when their father has been out of town on business, but Christian has also served as protector both on and off the red carpet.
RelatedPosts

CIARA TALKS PREGNANCY DURING COVID-19 WITH 'VOGUE' Jul 3, 2020

KHLOE KARDASHIAN QUELLS TRISTAN THOMPSON ENGAGEMENT RUMORS Jul 3, 2020
View this post on Instagram
Still, even with Christian pitching in to help his father with his younger siblings, nothing compares to the love that Sean Combs gives all of his kids. Such is the reason why the Hip Hop mogul's children gave him the sweetest Father's Day message last month.
"Happy Fathers Day Daddy," Diddy's kids wrote to him on Instagram. "We love you so much," the celebrity father's children continued. "You are such a great father, and you are the best dad anyone could ever have."
View this post on Instagram
Guess who made the deans list with 3.6+ GPA and over 50 hours of voluntary service. Congratulations Jessie, beauty with brain 💕💕 the 3 girls are Straight A students browngirls #thecombstwins #chancecombs #blackgirlmagic #washhands #stayhome #staysafe #thistooshallpass #scholar #deanslist #explorepage
Sean "Diddy" Combs fathers six kids in all. Stay tuned for more celebrity dad news!
Photo: Christian Combs/Instagram