PREGNANT TEYANA TAYLOR REVEALS ERYKAH BADU WILL DELIVER HER NEXT BABY
PREGNANT TEYANA TAYLOR REVEALS ERYKAH BADU WILL DELIVER HER NEXT BABY What A Cool Choice For A Midwife!
by Sarie Jun 25, 2020 in NEWS 0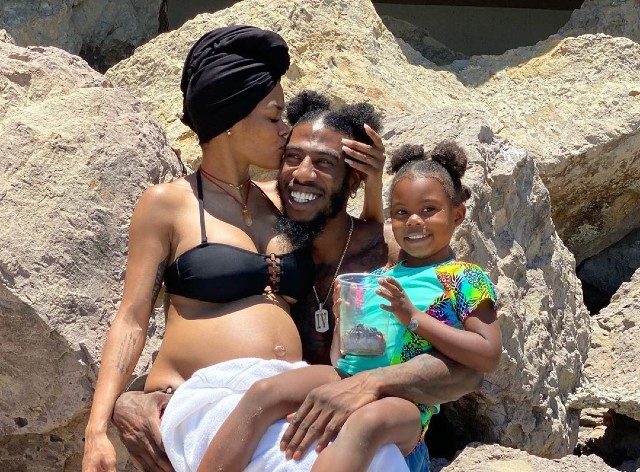 Express Your Reaction Share Tweet
Erykah Badu will deliver pregnant Teyana Taylor's baby. The 'We Got Love' singer shared the exciting news during a recent interview with Nick Cannon Radio on Power 106.
"I'm considering home birth and I'm actually gonna be doing it with Erykah [Badu]," Teyana revealed. "You know, I feel like if I did it once without any type of warning, I could do it this time fully prepared. Giving birth like that was scary but it was such a powerful thing."
View this post on Instagram
@teyanataylor 2nd baby will be delivered at home by @erykahbadu
Teyana Taylor gave birth to her daughter, Iman "Junie Bug" Shumpert Jr., in the bathroom of her home. Junie's arrival came with little warning as Teyana was on the phone with her mother the moment her water broke.
RelatedPosts

THE CHILDREN'S PLACE SET TO CLOSE 300 STORES Jun 25, 2020

LAKERS' AVERY BRADLEY OPTS OUT OF NBA SEASON RESTART TO PROTECT HIS 6-YEAR-OLD SON Jun 25, 2020
Taylor's husband, Iman Shumpert Sr., was also taken aback as he had to use the guidance of a 911 operator to deliver his daughter. Teyana and Iman held their wedding ceremony in their home's bathroom months later as a symbol of where their baby girl's life outside of the womb began.
View this post on Instagram
Headed to go finish working on my big mama! What color should she be?! 🧐🤔 pajamas: @prettylittlething
Junie Bug remains the vibrant member of the family who lights up every room she enters. Now, the youngster must prepare for the role of big sister.
"You have kids that are a little bit jealous. But she's so excited and preparing herself to be a big sister," Teyana Taylor explained during her recent interview with The Breakfast Club.
"She constantly kisses my stomach, she constantly talks to the baby," the celebrity mom explained. "Even when we go to the store, she's like, 'Okay, mom, this is for the baby.' She's so ready. She's going to be such a great big sister."
View this post on Instagram
Dear Iman, I hate your stinking guts. You make me vomit. You're the scum between my toes. I wouldn't trade yo ass for the world tho. You are the love of my life, and the greatest gift a wife & daughter could have ever been gifted with, and when our next girl arrives; she will feel just as lucky as we do. I Love you Papa! Happy Papa Bear Day! 💕💕💕 P.S. I don't really hate your stinky guts & u don't make me vomit BUT u are indeed the scum between my toes – Loveeeeee Teyana 😩😂🥰😘
Teyana Taylor and Iman Shumpert are expecting their second child to arrive in the coming months. Stay tuned for more celebrity pregnancy news!
Photos: Teyana Taylor/Instagram